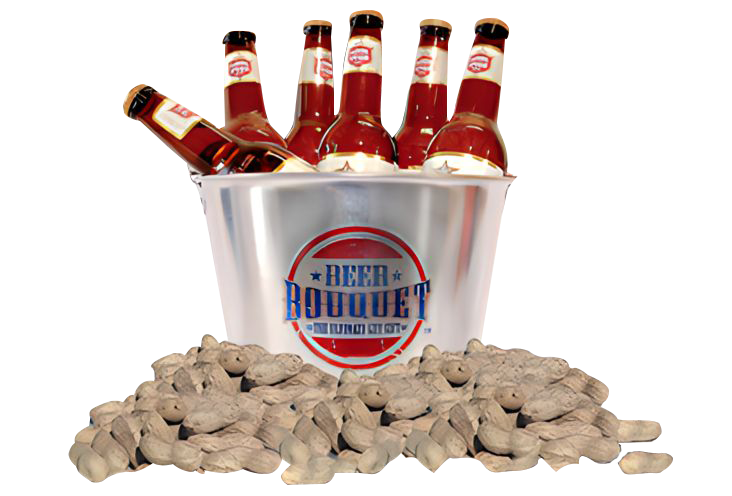 Sale price
$59.00
Regular price
Product description
Shipping & Return
Introducing Beer Bouquet, the perfect gift for beer lovers! Our gift buckets come with everything your special someone needs to crack open and enjoy a six pack of their favorite beer. Choose from a variety of different beer manufacturers and customize your bucket by adding tasty snacks and a personalized card.

All of our buckets contain the accessories needed to enjoy a six pack right out of the box (we suggest adding ice first of course). In the box you will find the bucket containing six 12 oz beers of choice, a bottle opener, a beer koozie, a 16 oz glass mug, and even a Beer Bouquet T-shirt. The bucket can be reused the next time he wants to enjoy a six pack of ice cold beer! All packaged nice and snug to avoid any accidents during shipping.

Whether you're celebrating a birthday, Father's Day, anniversary, or any special occasion, Beer Bouquet is a great surprise. So why wait? Order your Beer Bouquet gift bucket today and give the gift of refreshing and delicious beer!
Beer Bouquet is able to ship to most states. However, due to some state laws, we are currently unable to ship to; Utah, Alabama, Illinois, New Hampshire, Massachusetts, Michigan, and Mississippi. As liquor laws change frequently, we suggest checking back often to make sure laws have not changed in your state.

All orders placed before 2 pm will be shipped the next business day unless you choose to ship on a specific day. Upon checkout you will have the option to choose your delivery date.

A shipping calculator is provided at checkout to determine shipping cost.